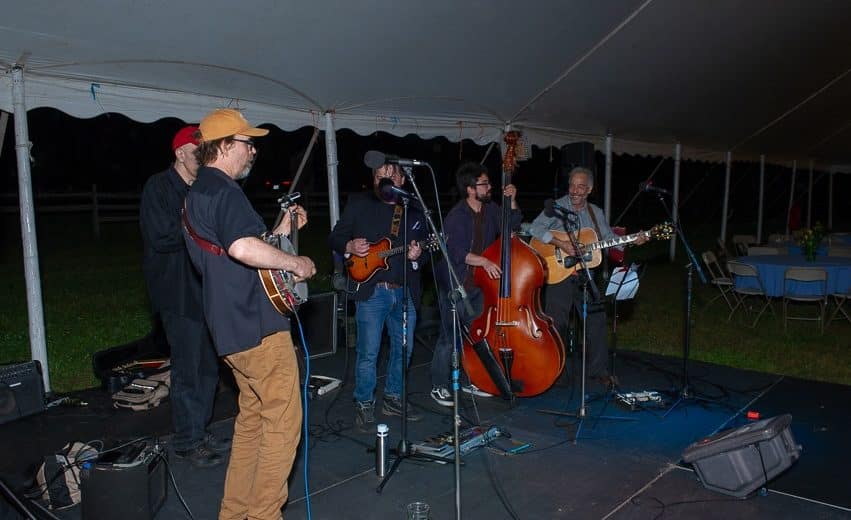 Good times all around at the June 22 Summer Solstice at Groton House. Luckily the weather cooperated after all the rainy days. The food included refreshments of
hors d'oeuvres, three kinds of paella cooked on site in very large pans, followed by lemon squares and brownies for dessert .   The Silent auction offered a wide range of great items to bid on.   Orville Giddings' Blue Grass Band got folks dancing to end a successful event. Thank you to Shawn Tinkham for talking all the great pictures throughout the night, you can view them here.
A big thank you to all of our generous sponsors:
Salem Five, Mayer Tree Service, Ipswich Ale Brewery
Benjamin Nutter Architects, EBSCO, Hogan Tire, Eric Emerson of Putnam Pantry, Steve Lombara of S.C.L Home Services, Tig Gregory
Rise Sheehan DVM Equine Veterinary Care, Mary Kane of GW&K Investment Management, Putnam Veterinary Clinic, Dr. Paul Sciolo of Ipswich Chiropractic and Rehabilitation, Buttonwood Stable, Bessemer Trust, Nancy Judge of Keller Williams Realty, Don Doak of EBSCO, Athleta, Institution for Savings and Corliss Bros.
We look forward to seeing everyone next year! Remember to mark your calendar.