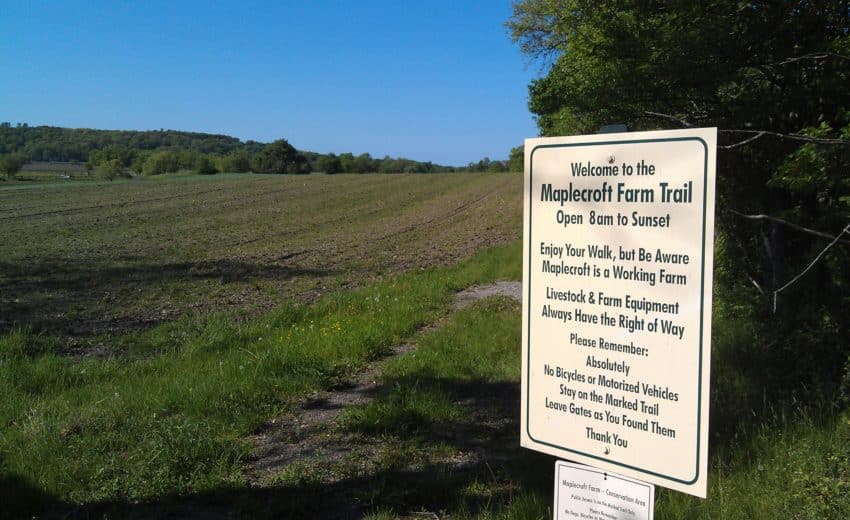 The world around us is changing.   Large tracts of open land are rapidly disappearing.   Fear of liability lawsuits limits public access.   The "handshake agreement" that has kept trails open for generations is no longer enough to protect our trails.
In the six towns in which we work, there are over 450 miles of trails, both public and private.   But that is not what makes the trails in this area so special.   What is impressive about that figure is the tremendous amount of interconnectivity within our trail network.   At ECTA's Pan-Ipswich Challenge, walkers and runners cross over 15 miles of continuous, publicly accessible trails.   The Discover Hamilton 8-mile loop trail crosses through public properties as well as both protected and unprotected private lands.   Examples of these extensive interconnected trails are many.
But what happens when one landowner in a trail network closes off a trail?   In some cases, it means diverting to a busy road.   In other cases the trail is completely cut off and suddenly your 8-mile loop becomes two dead-ends.   While agreements and licenses offer some protection, generally these are revocable and/or limited to a particular duration of time.   The only way to ensure continued public access is with a formal trail easement.
So what exactly is a trail easement?
"A trail easement is a perpetual legal agreement that allows others to use someone's land in the manner provided for within the easement.   An easement can be very broad, granting access to the easement holder and the public, or it can restrict what kind of access, when and under what conditions access can be used. For instance, the easement can be for public access to an entire property, or it could be restricted to certain users on a trail of a certain width. An easement can be for hiking only, bicycling, horseback riding; whatever uses the parties agree to, limited or expanded to the extent they decide."   (Adapted from Creating Greenways: A Citizens Guide, May 2007)
The trail easement is signed by the grantor (the landowner) and the grantee (the organization which holds the easement), notarized and recorded at the County Registry of Deeds.   The trail corridor remains the property of the owner and can be transferred or sold but the trail easement is perpetual.   Once a trail easement is recorded, it exists forever as part of the deed, even if the landowner sells the property.
That all sounds great for the trail users.   But is there a benefit to the landowner?  
A trail easement is an altruistic gift from a landowner.   Unlike a conservation restriction, there is no tax benefit for an easement.   A landowner who wishes to ensure public access across their trails is continuing a long tradition of public access in our area and is creating a legacy for future generations.   "It's about neighborliness. It's about land ethic.   It is sharing one's enjoyment of beautiful undeveloped farms, meadows and forests with others."   (Green Mountain Horse Association)
Many of the publicly accessible properties in our area, including Bradley Palmer State Park, Appleton Farms and the Pingree Reservation, were private lands gifted to the state or local land trust organizations.   While most of us can no longer afford such significant contributions of land, the gift of a trail easement can be just as profound.   Even the shortest piece of trail across private property can be an essential link in the larger trail network.
In some cases, a group of landowners working together can provide a mutual benefit.   Where a trail crosses through adjacent properties and connects to a larger network on either side, each landowner benefits from an easement on the neighboring property.
What about the down sides to a trail easement?
There is absolutely no increase in liability to a landowner by granting a trail easement across their property.   MGL Chapter 21, Section 17C limits a landowner's vulnerability to law suits. While anyone, including a trail user, could sue a landowner, the owner's liability is limited by law to circumstances of unlawful, wanton, and reckless conduct. In part, the law reads:
Any person having an interest in land . . . who lawfully permits the public to use such land for recreation, conservation, scientific, educational, environmental, ecological, research, religious, or charitable purposes without imposing a fee . . . shall not be liable for personal injuries or property damage sustained by such members of the public, including without limitation a minor, while on said land in the absence of willful, wanton, or reckless conduct by such person.
There are, however, a few serious issues to consider before granting a trail easement. In a sense, yes, the landowner is losing some of the privacy on their property.   In most cases, trails can be located, designed, and maintained to provide continued privacy to private landowners.   The landowner may even benefit from improvements to their property, such as trail resurfacing or bridge construction.
A trail easement does not prevent the landowner from future development or subdivision opportunities permitted for their property.   The trail can be relocated within reason as needed, as long as it maintains the connectivity and characteristics of the original trail.   The trail can also be closed for short-term circumstances such as private events, nearby construction or poor trail conditions.   We make every effort to work with landowners to ensure that the experience of open trails is positive for all involved.
What can I do to help protect public access to our trail network?
If you are a trail user, the most important thing that you can do to ensure public access is to RESPECT OUR LANDOWNERS.   Whether the landowner is the Town, the State, a land trust or a private individual, it is essential to recognize that it is a privilege, not a right, to be granted access to trails.   There are rules and regulations at almost all of the properties in our area – please adhere to this information as well as any posted signs for trail closures or limitations.   If someone informs you that you are not permitted on the trail, please do as they ask.
If you have any questions or feel the information is not correct, call or email ECTA and we will look into your concerns.   One negative experience for a landowner can prevent a possible easement or cause them to permanently close off a trail.   "Courtesy costs nothing, the lack of it costs you a trail."
If you are a landowner, we hope that you will consider the gift of a trail easement.   Contact the ECTA office at 978-468-1133 or by email at office@ectaonline.org and we will set up a meeting to discuss the possibility of a trail easement on your property.

What does the trail easement process entail?
ECTA will set up an initial meeting to discuss the landowner's goals, walk the trails and collect GPS data.
The trail location and nearbyproperty boundaries will be defined and mapped.
ECTA and the landowner will customize the legal trail easement documents to meet the needs of both parties, and will agree on a maintenance plan for the trail.
The landowner, if they choose, will have the legal document reviewed by an attorney.
The document is then signed, notarized and recorded.
To read more from our Summer 2013 Newsletter, click here.