Description:
Loop trail through farmland to Merrimack River.  River views.  Good birding, big trees on hilltop.
ECTA Map:
For ECTA Webmap Sponsorship, click here.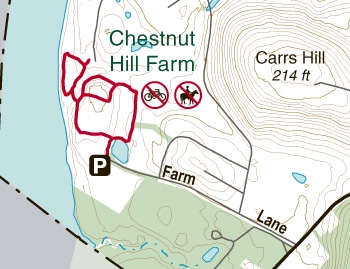 Click here to download the full-size pdf version of the Chesnut Hill Farm map.
Click here to download the West Newbury Open Space Chestnut Hill Farm map.
Activities:
Notes/Regulations:
Open dawn to dusk
Dogs permitted in Lower Field only (accessed from Rivercrest Drive), not in Main Field
Directions/Location:
Farm Lane (next to Pentucket Regional High School) to end.  Sign says Conservation Land Parking.
Owner:
Berkenbush Trust