PLEASE BE ON THE LOOKOUT!!
Gracie, a mini Italian Greyhound, has been missing since June 20th from Georgetown.  There has been a reported sighting of Gracie on 8/13 on Linebrook Road by Hood's Pond.  It would be a miracle to find this dog and get her back to her owners after 58 days!!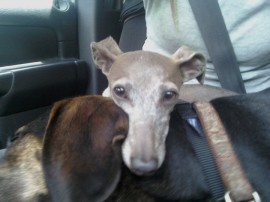 Gracie is small, grey and very thin…  she almost looks like small fawn or fox with mange.  Please contact Heidi Best, President of the Ipswich Humane Group, immediately if you have any information.  She can be reached at 978-356-4546 or by email.

For more information, visit the FIND GRACIE Facebook page.