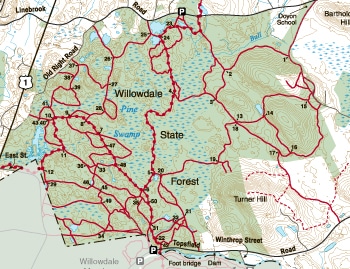 Description:
There is an extensive network of wooded trails throughout this section of Willowdale SF.  There are fire roads great for hiking (good for joggers/strollers), and extensive single track for mountain biking.  The Bay Circuit Trail winds through, connecting Bradley Palmer SP to the south with Cleveland Farm State Forest to the West.  Bring this map as it is easy to get lost and the numbered intersections help.
ECTA Map:
For ECTA Webmap Sponsorship, click here.
Online maps are a member benefit. Please log in using your primary account email and password to access our online maps. If your membership is lapsed you can renew online by logging in with the email you registered with and then you can renew online. Printed maps are available for purchase using the link below.
Activities:
Hiking

Running

Horseback Riding
Dog Walking

Mountain Biking

Birding (wooded and swamp)

Fire roads are good for stroller/jogger.
Notes/Regulations:
Directions/Location:
There is a parking area on Linebrook Road across from Marini's Farm pond and another on Topsfield Road (1/2 mile west of Winthrop St.) just west of the footbridge across the Ipswich River to Bradley Palmer State Park (or park at the footbridge.)
Owner:
Massachusetts Department of Conservation and Recreation
<!GWD deleted author section-->